The Sesquicentennial Of The Historic Battle Of Gettysburg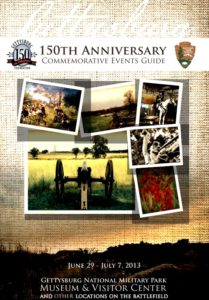 The Gettysburg Foundation and Gettysburg National Military Park are commemorating the 150th anniversary of the Civil War, the Battle of Gettysburg and the dedication of the Soldiers' National Cemetery with special events and programs, such as new exhibits, National Park Service interpretive programs, living history events, and family activities.
According to The 150th Anniversary Commemorative Events Program, "It took just four days in 1863 to etch Gettysburg into our national lexicon forever. From July 1 to 3, a Union victory in the largest battle ever fought in North America helped turn the tide of the Civil War."
The Museum and Foundation aim to use the anniversary to "increase public understanding of the heritage and lasting significance of Gettysburg and Gettysburg's place within the context of the American Civil War."
Start your visit at the Gettysburg National Military Park Museum and Visitor Center where nonstop, spectacular programs are planned from Saturday, June 29 through Sunday, July 7, 2013.
Our handmade, leather book Three Miles from Providence: A Tale of Abraham Lincoln and the Soldiers' Cottage is on sale in the display case at the Museum Bookstore.