We make gift giving easy this season with Books and Art for all the people on your list.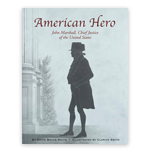 For the teacher, parent, and student who likes to learn about the Founding Fathers.
Young readers can learn the fascinating life story of John Marshall – one of American's most accomplished historic figures. He was a soldier for the Revolutionary Army, a successful lawyer, a congressman, and Secretary of State. As Chief Justice, John Marshall made the Supreme Court the strong and powerful body it is today. Richly illustrated in graphite and watercolor, American Hero tells the life story of the founding father history almost forgot—John Marshall, the Great Chief Justice.
$14.95 Order Today >>
Also available from Amazon & Barnes and Noble and at select museums, schools and historical sites
---
For the historian, preservationist, and lover of presidents.
David Bruce Smith's fictitious diary creates a unique and engaging tale about Abraham Lincoln, his family, the history of the Soldiers' Home and Washington, DC during the Civil War. In the leather bound, limited-edition book the author conjures a fictitious veteran of the Mexican-American War who is subsequently asked to guard the President at the White House, and the Soldiers' Home—the "Camp David" of the times where Lincoln spent one quarter of his presidency, and is believed to have written a draft of the Emancipation Proclamation. Told in an intimate diary form, "Three Miles from Providence" starts at Lincoln's inaugural in 1861 and concludes seven generations later in 2008. During the intervening 137 years, the reader learns what happens—and what doesn't—at the Soldiers' Cottage. Includes illustrations by the acclaimed artist Clarice Smith.
$49.95 ORDER TODAY >>
---
For the bibliophile who appreciates fine books and limited editions.
TENNESSEE is a limited edition, four-color letterpress, three-volume collection which contains the initial printing and publication of Tennessee Williams's recently discovered play, "These Are the Stairs You Got to Watch," accompanied by his masterpieces, "The Glass Menagerie" and "Cat on a Hot Tin Roof."
The folio includes six color art prints from metal plates: "Tennessee's Women," by world renowned artist Clarice Smith. Each piece was made in Florence, Italy, on a 60-year-old roller press. Three subjects are presented as full page illustrations, three are included as unbound prints signed by the artist.
$3,000 Order Today >>
---

"TENNESSEE'S WOMEN": for the Art Aficionado
A series of six multicolor offset lithographic prints created by world-renowned artist Clarice Smith. Each hand-colored drawing originally appeared in the limited edition, letterpress, three-volume collection "Tennessee" by David Bruce Smith. The Print Series includes the legendary theatrical heroines:
"Alma" from "Summer and Smoke"
"Maggie" from "Cat on a Hot Tin Roof"
"Laura" from "The Glass Menagerie"
"Blanche" from "A Streetcar Named Desire"
"Maxine" from Night of the Iguana"
"Girl" from "These Are The Stairs You Got to Watch"
$750 each
Order Today >>
Each unframed print measures 13″ x 17.5″