Books And Art For Mother's Day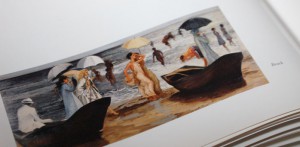 The very first book David Bruce Smith created was a gift for his mother, Clarice. "Afternoon Tea with Mom" is a coffee table book of her paintings.
A few years later, David and his mother collaborated on the limited edition, "Continuum." David wrote the text to accompany Clarice's series of Venetian paintings – a work that was commissioned by The National Museum of Women in the Arts.
A subsequent art/literature partnership was "Tennessee," and the accompanying prints "Tennessee's Women." Clarice created six hand-colored drawings depicting female characters from Williams's plays. They are available as part of the book, or sold individually.
The series includes:
"Alma" from "Summer and Smoke"
"Maggie" from "Cat on a Hot Tin Roof"
"Laura" from "The Glass Menagerie"
"Blanche" from "A Streetcar Named Desire"
"Maxine" from Night of the Iguana"
"Girl" from "These Are The Stairs You Got to Watch"
Afternoon Tea with Mom, Continuum, Tennessee and the prints make extraordinary gifts for all mothers.