Summer Reading Shouldn't Feel Like Homework
By Ann Patchett for The Wall Street Journal
July 19, 2019
As children, many of us were forced to consume books over school break; as adults, we can enjoy those assigned classics without the academic burden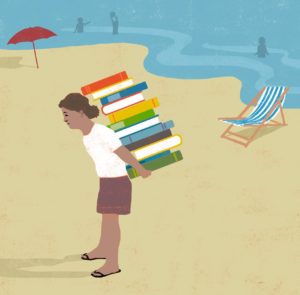 Much of summer reading comes from the idea that we become stupid in the summer. We're on vacation and therefore must want a fat legal thriller or a novel that considers themes of shopping and sex. Beach books promise to entertain us and never send us to the dictionary. (I'm dating myself here. I still use a dictionary.)
But what if our desire for mindless paperbacks from June through August is in fact a kind of subconscious backlash to the summer reading that was forced on us as children?
This didn't happen to everyone. Plenty of kids were allowed to spray one another with hoses all summer, but the rest of us left school with a required reading list, homework meant to keep our brains from atrophying over the vacation. Grudgingly, we went to the bookstore or the library to peruse the summer-reading tables where our choices were stacked according to grade. Hearts filled with resentment, we made our picks.
In some cases, summer reading meant that the whole school had to read one book; in others, you had to pick several books from a school-approved list, or you could pick your own books as long as you met a certain quota. In many cases, there were book reports due once school was back in session—proof of your efforts. Or maybe your library sponsored a summer-reading contest that rallied your competitive spirit. Or you could have been like my friend Maile, whose father promised her a 10-speed bicycle if she read 10 books over the summer (surely he would have known she would read enough to merit a car).
My friend Patrick claims that he never had a summer-reading list of any stripe. "I guess they didn't exist for us. That was why, the summer I was 16, I read 'Gone With the Wind,' eight John Jakes novels, 'Flowers in the Attic,' 'Cujo,' 'A Separate Peace,' 'The Lord of the Rings' and the novelization of 'The Cannonball Run.' Bliss!"
Thanks to the summer-reading assignments of my youth, I've never gotten past the idea that this is the season for classics, and so I have continued to trawl the reading tables long past an appropriate age. Going to the summer-reading table without a child (I don't have any) is a little like going to the dog park without a dog, but so be it. I see the books that are assigned to other people as a chance to fill in the holes of my education.
That is how, in the countless years since graduation, I came to read "Moby-Dick" and Richard Wright's "Native Son" and Thornton Wilder's "The Bridge of San Luis Rey" and Kate Chopin's "The Awakening" and Zora Neale Hurston's "Their Eyes Were Watching God." The list goes on and on. How did I make it through high school (and college and graduate school) without reading these books? I have no idea, but I'm grateful for this yearly prompt to correct the deficit.
Now that I co-own Parnassus Books, an independent bookstore in Nashville, I find myself flipping through the giant green binder of summer-reading lists from all the area schools and being struck by how many seem committed to wringing every ounce of joy from a young person's relationship to a book:
• Please choose TWO questions and write a response for each. Response should be 5-8 sentences, include evidence from the text and demonstrate your best grammar, spelling, punctuation and writing craft. This assignment will be the first grade of the first nine weeks and serve as the writing sample for the school year.
• Assignment: You will have a 20 question test, and you will write an essay on the second day of class. Please be prepared.
• Read and thoroughly annotate J.D. Salinger's "The Catcher in the Rye." Please keep in mind that thorough annotation includes the following actions… (The list is very, very long, and the students are informed that the teacher may check the annotations the first week of class. Holden Caufield never would have stood for it.)
Of course, reading is a school assignment, and teachers have to use whatever means possible to confirm the books weren't just carried around in the bottom of a backpack all summer. Even Maile's father made her write 10 book reports to score the bike. But that's all the more reason for the rest of us to visit these summer-reading tables with impunity now that we're adults. We don't have to do the homework anymore.
Based on my small and incredibly unscientific sampling, Trevor Noah's "Born a Crime: Stories From a South African Childhood" is trending high as a new addition to reading lists. In some schools, all the listed authors were living—Richard Powers and Monica Ali and Kevin Wilson—while other schools stick with the dead—Dumas and Dostoevsky and Dickens. I favor lists that mix things up. I was particularly happy to see Margaret Atwood's "The Blind Assassin" sharing space with Turgenev's "Fathers and Sons." I was stopped by Jules Verne's "Twenty Thousand Leagues Under the Sea"—yet another book I've never read. Maybe this will be the summer I remedy that.
I've seen a few of my own books turn up on summer lists over the years. It makes me feel old. Some schools assign my novels to rising sophomores, while in other schools I am suggested reading for seniors. How old do I think a person should be to read something I've written? I have no idea.
"It's all about the vocabulary words," my neighbor Jack explained while I was out walking the dog. Jack will be in eighth grade in August. He's reading "Murder on the Orient Express."
My criteria for the best summer reading are books that are built to last. Think "Pride and Prejudice." Think "Beloved." The books should engage and challenge and, if everything goes according to plan, lock in a love of reading.
What books would I want to see included on summer-reading tables everywhere? Two perfect candidates were published this July: first, the much-lauded new novel "The Nickel Boys" by Colson Whitehead, the story of a hellish reform school in Florida, and a book of nonfiction by Margaret Renkl called "Late Migrations: A Natural History of Love and Loss" that examines a quiet life through the lens of family and the natural world. I don't say this lightly, but both deserve to be read for as long as kids have been reading "Of Mice and Men." And like the Steinbeck classic, both of these books are short, which, along with their brilliance, should ensure their summer-reading popularity for generations to come.
—Ms. Patchett is the author of eight novels, including "Bel Canto," "State of Wonder" and the forthcoming "The Dutch House," to be published Sept. 24 by Harper