Live Storytelling: The Original Virtual Reality By Jon Spelman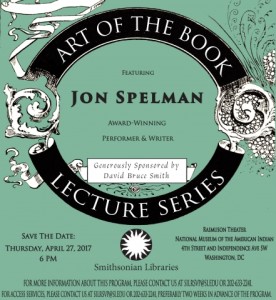 Smithsonian Libraries Art of the Book Lecture Series, Part II
Live Storytelling: The Original Virtual Reality
by Jon Spelman, performer and writer
Thursday, April 27, 2017
6:00pm
Rasmuson Theater
National Museum of the American Indian
4th Street and Independence Ave SW, Washington, DC
Spelman will tell several short stories of different kinds; expect to hear a modern folk tale, a tall tale, a personal story, and a poem. Throughout the stories, Spelman will interactively explore with the audience how live storytelling "works" as an immersive, participatory experience in which the listeners are active co-creators.
Jon Spelman has been called "World-class!" and "The Dean of American Storytelling". For more than thirty years, he has created and collected stories and told them all over the Mid-Atlantic, throughout the US, and in nine different countries. He was awarded three GRAMMYs for his NBC4 TV series THREE STORIES TALL, and has been the recipient of a number of grants and commissions to create new work from a variety of organizations and theatres, including The Smithsonian's Discovery Theatre.
This is the second of two lectures generously sponsored by David Bruce Smith.
Please click here to RSVP. For access services, please contact us at silrsvp@si.edu or 202.633.2241, preferably two weeks prior to the program.