Jewish Literature Live! 2016
Jewish Literature Live! hosts rising and renowned Jewish American writers to speak with the GW and literary community. Guest Speakers include emerging leaders, National Humanities Award Recipients, international bestsellers, and UN-Award Winning Writers, e.g. Michael Chabon, E.L. Doctorow, Nicole Krauss, and Erica Jong.
David Bruce Smith, a graduate and former trustee of George Washington University, and Professor Faye Moskowitz established the course in 2009. Mr. Smith recalls, "I was asked to consider funding the course by the then-head of the English department, who was Professor Jeffrey Jerome Cohen. The reason I agreed is the only person teaching Jewish literature was retiring, and I didn't want that influence to disappear from the curriculum."
Spring 2016 Schedule for Jewish Lit Live
January 21, 2016
TV star, actor and humorist Annabelle Gurwich, Author of I See You  Made an Effort
Marvin Center 301
---
February 4, 2016
Journalist Peter Slevin, Author of Michelle Obama: A Life
Marvin Center 301
---
February 18, 2016
Aryeh Lev Stollman, Author of The Far Euphrates
Marvin Center 301
---
March 3, 2016
Judith Viorst, Author of Necessary Losses
Marvin Center 307
---
March 24, 2016
Mary Morris, Author of The Jazz Palace
Marvin Center 301
---
April 7, 2016
Molly Antapol, Author of the award winning The UnAmericans
Room TBD
---
April 19, 2016
Phyllis Rose, Author of The Shelf and Parallel Lives, among many other works
Marvin Center, 308 (Note, this is a Tuesday night. All others are on Thursday.)
---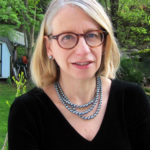 April 28, 2016
Roz Chast, New Yorker cartoonist
Author of the graphic memoir Can't We Talk About Something More Pleasant?
Room TBD
---
All evening events are still free and open to the public in the GWU Marvin Center. They begin at 7:00 and end at 8:30PM.
Jewish Lit Live 2015 >>
Jewish Lit Live 2014 >>
Jewish Lit Live 2013 >>
Jewish Lit Live 2012 >>