Gwu English Professor Faye Moskowitz And Co-founder Of Jewish Lit Live Retires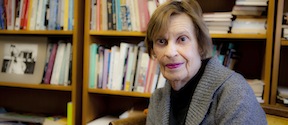 On April 21, 2016 beloved English Professor Faye S. Moskowitz announced her retirement after a 30-year tenure at George Washington University. Prof. Moskowitz is the Co-Founder of GWU's Jewish Literature Live! The popular course will continue in the spring of 2017 under her helm.
"And so today ends more than 30 years of learning and teaching at GWU. I am officially retiring except for at least one more J. Lit live in 2017. So bitter sweet. My Fiction class brought a bountiful brunch and a cookie for me as big as the Ritz: the hotel, not the cracker.
And my J. Lit class, how could they keep this a secret, read A Leak in the Heart, on top of everything else they had to do. Today I was the visiting author. Heart still pounding with emotion and love for you all."  Prof. Faye Moskowitz – April 21, 2016

Jewish Lit Live hosts rising and renowned Jewish American writers to speak with the GWU and literary community. David Bruce Smith, a graduate and former trustee of George Washington University, and Professor Faye Moskowitz established the course in 2009.